Christie Entero HB 70" HD display cube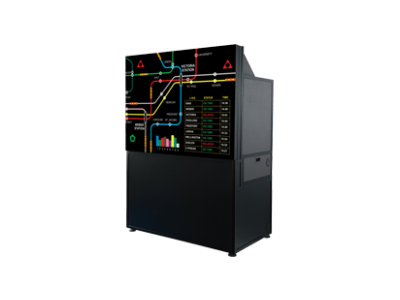 Christie® Entero™ HB is an evolution in performance, reliability and confidence for control room video wall displays.
Performance – Leading the progression to higher brightness LED displays, Christie has developed Christie Entero HB – the newest generation of high-performance, high-brightness display wall cubes. With the most advanced LED display system design and Christie's quality, service and support, Christie Entero HB offers the highest brightness, 24/7 performance, reliability, all with an overall low cost of ownership and operation.
Control – The Christie Entero HB series is the first and only LED control room display to offer wireless control through Wi-Fi capability – make adjustments, control the wall or perform diagnostic monitoring through an iPad® or other similar wireless device. It's that simple.
Flexibility – The Christie Entero HB 70" HD video wall display cube, is part of a new expanded series of control room display cubes offering installation flexibility with options in resolution and display formats to meet specific room or space requirements. The Christie Entero HB 70" HD video wall display cube is an excellent option for installations that need true HD LED display cubes in a 70" 16:9 form factor.
Maintenance – Designed for zero maintenance, the Christie Entero HB series is solid state, has no consumables and no scheduled maintenance for at least 5 years.
The Christie Entero HB offers the highest brightness on the market, unparalleled 24/7 performance and years of worry-free operation. Plus, with simple, intuitive hardware installation, minimal setup time and effort and modular design for fast and easy servicing if required, the new Christie Entero™ HB control room display cubes exceeds your expectations.
Features
>900 lumens – normal mode / >1350 lumens – high brightness mode
70" (1778mm) diagonal, HD (1920 x 1080) resolution
high performance – high brightness, wide colour gamut, superb contrast, excellent brightness and white level uniformity
Wi-Fi enabled – wireless video wall control through iPad or similar wireless device
Christie ArraySync™ third-generation automatic LED video wall colour and brightness management
24/7 reliability – based on latest DLP® technology
Zero maintenance design – no consumables, no maintenance for at least 5 years
Low cost of ownership/operation
Shallow 808mm (31.8") depth requires minimal space allocation for 70" displays
Industry standard 16:9 aspect ratio
Only 1mm nominal space between screens
Geometric precision for seamless imaging across multiple displays
Reduced disruption because there are no consumable components to replace
Very wide colour gamut for superior colour reproduction
Ultra high contrast, view-ability and display performance
Designed for long-term use and performance – no need to replace in a few years
>80,000 hours rated LED life (eco mode)
Modular design for minimal downtime if a repair is required
Dust free sealed optics
Permanently sealed liquid cooling system (no pumps or hazardous liquids)
Product make-up

Cube
Projection engine
Screen1

Imaging technology

Imaging

Superior 0.95" 1-chip DLP®, DarkChip
Texas Instruments

Native resolution

HD (1920 x 1080) | 16:9 aspect ratio

Illumination

LED (Red, Green, Blue) | OSRAM | Redundant LED Architecture

Cross prism screen

Technology

optical: Fresnel/cross prism
DNP

Screen gap (image to image)2

0.2-1.0mm
adjustable
1mm nominal recommended for rear access @25°C

View-ability

180° Horizontal
120° Vertical
+/- 35° Horizontal ½ gain
+/- 27° Vertical ½ gain

Light engine (ANSI)

ANSI

Up to 1350 lumens in high brightness mode
950 lumens in normal mode
740 lumens in eco mode

Control

manual and continuous automatic (ArraySync) control to manage brightness uniformity across large display walls

Colour

Temperature range
Gamut
White balance uniformity
Control

ArraySync™ automatic color management with 12-bit processing to precisely and continuously manage uniformity across large display walls without user intervention

precise tri-stimulus color sensing (x,y,z) for superior color management
display light engine is factory calibrated using scientific-grade spectral radiometers for high precision color management
comprehensive controls for manual setup if desired

Optical

Lens type

0.64:1 low distortion, zero offset
1.1:1 HD low distortion, zero offset

Brightness uniformity
Contrast ratio

up to 2200:1 full field without using dynamic or artificial techniques

Audible noise

Noise power level

<30 dBA typical at 1 metre distance from screen centre

Inputs

Standard

1 x digital DVI-D
165 MHz maximum pixel clock frequency
single link

DVI loop-through

up to 25 displays on a single loop-through chain

HDCP support

included (operating at native resolution)

Optional expansion

secondary DVI-D input with automatic fail detection and switch over

Compatibility

all Christie video wall processors and other standard SXGA+ and HD sources

Control/networking

Methods

IR full function remote keypad
external computer or control device via Wi-Fi and/or Ethernet and/or RS-232
(Wi-Fi can be disabled with no radio frequency transmission if required)

Physical ports

1 x RS-232
2 x Ethernet RJ45

Ethernet bridging (daisy chain) limit

up to 25 Ethernet bridges, projector to projector without external switch

Monitoring

Status display

2 line by 16 character OLED display

Diagnostics

via status display, RS-232 and Ethernet/Wi-Fi (can be disabled with no radio frequency transmission, if required)

Upgradability

Software/fireware

fast, on site firmware upgrades via USB, Ethernet or RS-232

Options

Accessories

secondary DVI-D input module
cube pedestals

Physical characteristics

Screen size (in.)
Screen size (mm)
Cube depth (total)
Weight - cube
Weight - engine
Weight - screen
Stacking capability3
Service access

rear
light weight rear access panels

Environment

Operating temperature

cube: 40° to 90°F, 5° to 35°C
engine: 32° to 104°F, 0° to 40°C
screen: 63° to 88°F, 17° to 31°C

Non-operating temperature

cube: -4° to 122°F, -20° to 50°C
engine: -13° to 158°F, -25° to 70°C
screen: -4° to 95°F, -20° to 35°C

Humidity

cube/engine: 20% to 80% NC, 35% to 65% NC for storage
screen: 40% to 60% NC

Altitude

0 to 3,000m, 0 to 10,000 feet

Power rating (core engine only)

Voltage range
Power consumption

135W/190W/220W watts (eco/normal/high brightness)

Dissipation

460/648/750 BTU/hr (eco/normal/high brightness)

Reliability and serviceability

MTBF/MTTR

MTBF: >60,000 hours for all major modules
76,000 hrs for power supply
MTTR: <15 minutes via modular servicing

Cooling fan lifetime
LED lifetime

>80,000 hours in eco mode
>60,000 hours in normal operating mode

Regulatory (core engine only)

Directives/certifications

(EC) 2011/65/EU (RoHS)
2012/19/EU (WEEE)
Regulation (EC) No. 1907/2006 (REACH)
CAN/CSA C22.2 No. 60950-1
UL 60950-1
IEC 60950-1
FCC, Part 15, Subpart B, Class A
ICES/NMB003 (A)
EN55022/CISPR22 Class A
EN55024/CISPR24
The product is designed to comply with rules and regulations required for the product to be sold in various regional markets, including: USA/Canada, EU, Australia/New Zealand, Kuwait, China, Korea, Japan, Mexico, Ukraine, India, Russia, South Africa, and Saudi Arabia

Warranty

two years parts and labour limited warranty
extended warranty available

Addtional features and benefits

Integrated 6-axis adjustment system – no electronic image correction required
Tiling feature to display a single source across a wall array (to 25 displays)
DVI loop through minimises cabling
Multiple Ethernet ports minimise cabling
Safe, water-filled, maintenance free, metal sealed heat pipe cooling system ensures long LED lifetime and reliability
No liquid cooling pumps containing hazardous liquids and requiring annual maintenance/inspection nor hazardous waste disposal
Cable channeling system enables clean, professional and concealed cabling of all input, power and interconnect cables within the cubes
1Other screen types available.
2Depending on environment and wall configuration.
3Depending on pedestal type used.